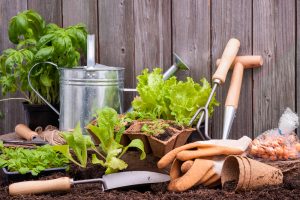 Happy Saturday! (I hope your Friday the 13th was a good one!)
Based on the emails I've been getting in the last week or two, several of you have noticed that I haven't done my regular Saturday posts for a couple weeks now. So, I thought I'd bang out a quick one to let y'all know what's taking up my time.
It seems like everything is happening at once around here this spring. First, of course, are the thirteen new releases I have coming out in the next thirteen weeks. And while I don't like putting any sort of sales pitch into these Saturday posts, those are absolutely part of the reason my schedule has been so full. (If you're curious about the 13 in 13, go here.)
But, on top of all the new releases, spring is here. Around Casa Posey (or Casa Cooper-Posey, if you prefer) that means gardening and getting the seedlings started. We've got what's looking like a good start on strawberries; cherry tomatoes; red, green, and Serrano peppers; garlic; cauliflower; and broccoli. We've also got a good start on thyme, rosemary, cilantro, and chives.
In 2022, that also means finishing the exterior renovations and landscaping that we started in August 2021. Back last summer, we had the shingles replaced. Once that was done, my brother and I took care of the soffit and fascia. With that done, we had the gutters replaced. Then the siding got delayed because of all the material shortages related to the pandemic. So, we had to put the windows and siding replacement on hold.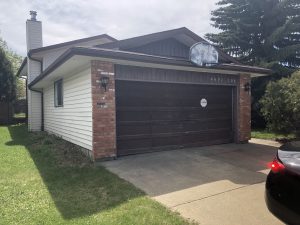 Well, around the middle of March this year, the siding finally showed up and we'd stored the replacement windows down in the basement over the winter. About three weeks ago, we got started on replacing the windows and siding. We're about half-finished, as we're only doing it on weekends.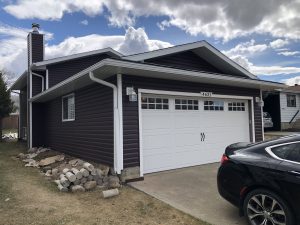 We were hoping to finish it up by the end of the May long weekend, while Tracy was putting the seedlings into what by then would be the ready-to-go garden spaces. And then, on Wednesday afternoon, this happened.
So, I'm going to be extra, extra busy for the next few weeks.
And, of course, I can't believe I forgot to include: the Stanley Cup Playoffs are in full swing! Go Oilers!
I hope your spring is going well. Everyone getting their gardens ready?