Happy Monday!
I hope your week is off to a brilliant start.
Let me ask you a question: Who shot J.R.?
Do you remember? I don't, actually. I do remember that in the summer of 1980, you couldn't swing a dead cat without hitting someone who was talking about it. The season finale cliffhanger of Dallas in 1980 was the cliffhanger of all cliffhangers.
There have been many TV shows that have used a cliffhanger like that at the end of their season to encourage viewers to come back, even eagerly anticipate, next season. Sometimes, it's even next episode. Regardless, we almost always come back. We have to know what happened, don't we?
Star Trek: The Next Generation did it with Best of Both Worlds back in 1990. West Wing did it with What Kind of Day Has It Been? in 2000. Sherlock did it with The Reichenbach Fall in 2012. In very recent times, New Amsterdam did it with Luna in 2019.
The wait to find out what happened is excruciating, isn't it? But in the end, it's almost always worth it. And, I hear all the time, "I hate cliffhangers!" and yet, fans still come back to the next episode or season, eager to find out what happened.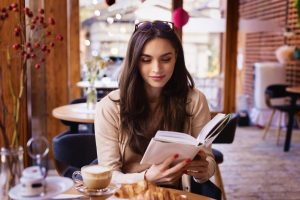 Now, let me ask you another question: Do you like to read during your lunch break? Or for a short time before you go to sleep?
On Monday, May 2, just three short weeks from today, my publisher, Stories Rule Press, is launching my new series, Credible Threat, in serial format. There are thirteen episodes in Season One and all of them are short enough to be read, in full, on your lunch break or in that fifteen or twenty minutes of reading time before you turn out the lights.
For those of you not familiar with the serial format, just think of it like a television series — thirteen episodes that build to an explosive season finalé. Full disclosure — there will be cliffhangers.
Next Monday, I'll tell you all about Credible Threat, including release dates, an excerpt or two, and, of course, show you the awesome cover put together by our uber-talented cover designer.
Have a great week!