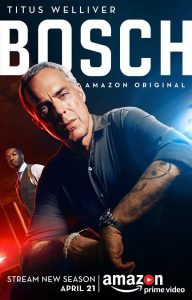 With a lot of us sheltered in place the last few months, we've all had a lot of time to binge watch everything. I'm old enough to remember a time before streaming services. I remember waiting for an agonizing week to watch the next episode in whichever series had ended in a cliffhanger last week.
Now, with services like Amazon Prime and Netflix, you just wait five seconds and the next episode starts. I love it. Although, it does tend to eat up a fair bit of time. I suspect that a great many of us will be binge watching for most of the summer, with the way things are going right at the moment.
I've just finished rewatching all six seasons of Bosch on Amazon Prime. It's such a good show – good acting, good writing. It's a spectacularly well-done police procedural based on Michael Connelly's Harry Bosch novels and starring Titus Welliver.
Hieronymus (Harry) Bosch is a no-nonsense LAPD Homicide detective who was born to do that job. The stories are multi-layered, often with two separate investigations on-going for the entire season. As well, the characters have rich, well-developed personal lives that the plotting does not ignore.
I'd give it six stars out of five on any ratings system going. It's that good. Do yourself a favor and watch Bosch. You can't go wrong, there. And, if you're up for binging, there are six seasons with ten episodes each. Almost forty-five hours worth! And totally worth every minute.