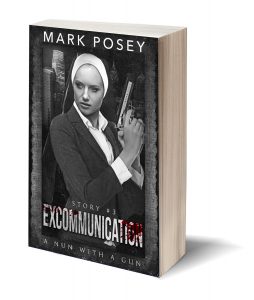 Happy Wednesday!
Today is the release day of the third story in the Nun With A Gun series: Excommunication!
According to Wikipedia: "In the canon law of the Catholic Church, excommunication, the principal and severest censure, is a medicinal, spiritual penalty that deprives the guilty Christian of all participation in the common blessings of ecclesiastical society. Being a penalty, it presupposes guilt; and being the most serious penalty that the Catholic Church can inflict, it naturally supposes a very grave offense. The excommunicated person is basically considered as an exile from the Church and as non-existent, for a time at least, in the sight of ecclesiastical authority."
Alice has given more to the church than anyone, ever. In fact, it would probably be safe to say that she's also had more effect on the church than anyone else alive. I think, deep in her heart, she considers most members of the church her family. But, having been around for so long, she also knows all of the church's dark and dirty little secrets. I can see how the Pope could be convinced that she had to go.
In Excommunication, Alice's feelings of betrayal and guilt are expressed in particularly brutal ways, but they also lead her to take refuge in unexpected places, particularly for a nun.
Writing Excommunication was when I truly realized how flexible Alice would perceive the tenets of the church, the Ten Commandments, and her vows as a nun. Indeed, her entire worldview would be so different from any of ours, it could almost be considered otherworldly. But Alice is entirely human in all the best senses of the word. I would definitely put Alice Fisher on my coffee time list.
Excommunication is the shortest of the Nun With A Gun stories but it's probably the most important. More than any of the other stories, it shows Alice Fisher being exactly who she is, exactly who she wants to be. She looks after the people she truly cares about in a way that only she can. The same goes for the people she considers to be her enemies.
I don't think it'd be very good to be perceived by Alice as one of her enemies. Don't think that'd be very good at all.
I want to thank everyone for their enthusiastic responses to the Nun With A Gun series and I really hope you enjoy Excommunication!
They have her attention, but they may not live to regret it.
To flush Sister Jacobine out of hiding, the Vatican's Black Ops team shoot Detective Rafferty. While he clings to life, they kidnap Geraldine Rafferty and her daughters. The Black Ops team will stop at nothing to ensure Sister Jacobine returns to Rome with them.
Will she surrender or will the Black Ops team face Excommunication?
A Nun With A Gun is a series of short stories and novelettes about Sister Jacobine, the Pope's hitwoman. They are best read in order.
1.0 Feet of Clay
2.0 A Port in the Storm
3.0 Excommunication
4.0 Requiem Mass
5.0 Den of Lions
6.0 The Narrow Gate
Thriller Short Story
___
And don't forget that the first book in this series, Feet of Clay, is only 99c for now.
Have a great week!
Mark
Mark Posey--Crime, Thrillers, Suspense
Average rating:
0 reviews