Happy Monday!
Lately, one of our cats, Strider, has been sitting with me while I write. I don't know if he likes the clickety-click of the keyboard, just wants to hang out for a while or what. Every morning for years, he has climbed into my lap after breakfast for a tummy rub and neck scratch. Maybe he's expecting more?
He sure has grown over the years. He started out as just this little kitten that would fit in the palm of my wife's hand. And now…? We weighed him just a week or two ago—27 lbs. He's a monster! And crazy, too. Likes to dash around the house full-tilt, skidding around corners and crashing into the walls.
We love him lots.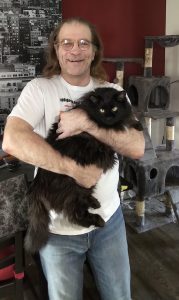 My writing world has been crazy-busy as of late. Since last Monday, I've finished writing Den of Lions, story #5 in the Nun With A Gun series and plotted and started writing The Narrow Gate, story #6 in the same series. I think you're really going to enjoy the things that Sister Jacobine has got up to in these latest stories.
After I finish The Narrow Gate, I'll be getting to work on Fall From Grace, book #2 in the Thomas Billings Thrillers series. That should be out sometime in the first half of December. We'll have to see what kind of trouble Thomas and Grace get into and out of in book #2. I suspect it'll be just as much if not more than everything they went through in Saving Grace.
After that, (Phew! I'm getting tired just thinking about it!) I'll be diving right into a full-length Nun With A Gun novel! As long as everything goes to plan, you should be able to catch up with Alice's new adventures sometime in January 2021.
In the meantime, Feet of Clay and A Port in the Storm have been getting some great reviews and tomorrow, Excommunication will be released. I hope you enjoy them!
Mark.