Happy Monday!
I hope you're all staying safe and healthy. We're all good up here. We basically don't leave the house except to go get groceries. One of the things we're finding with having to disinfect all the groceries before we put them away, fresh fruit and vegetable are lasting way longer in the fridge. As much time as it takes, we may have to continue even after life gets back to "normal". What positives have you been finding from self-isolation?
Back in April, a writer friend of mine sent out a call for submissions for an anthology of short stories he was putting together called, "Nuns With Guns". I found that idea immediately compelling. I couldn't stop thinking about it. When I sat down to write the short story, Feet of Clay, that I ended up submitting to his anthology, it burst onto the page.
As soon as I sat down to write, I knew instantly who Alice Fisher/Sister Jacobine was — how she talked, how she moved, what she'd experienced in her life — everything. That's rare. I usually takes a great deal of time to get to know a character.
After my writer friend read the story and accepted it for the anthology, he and I had a conversation and what he said echoed what I'd been thinking. "Y'know, that would be a really great beginning to a series."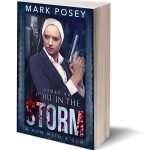 And so, I spent the summer writing about A Nun With A Gun. I've really enjoyed spending time with Alice and putting her through the ringer, both physically and emotionally. I'm really excited to announce that the first two stories in my new series of novelettes, A Nun With A Gun, will be out tomorrow (September 1st) across all the major retailers!
Because they are all novelettes (50 – 80 pages), after the first two, Feet of Clay and A Port in the Storm, I won't make you wait very long to get the next in the series. Excommunication will be out September 15th, Requiem Mass releases on September 29th.
Both are currently available for preorder so, if you like the first two, preordering is a great way to make sure you don't miss out on the third and fourth installment in the series. The fifth and sixth installments will be out in mid to late October. It's also within the realm of possibility that a full-length novel will be in the works soon.
I've had a ton of fun writing all of them and I hope you get just as much enjoyment out of reading them!
Have a great week!